Our Mission is to Glorify God by providing affordable donated and new merchandise in a dignified retail setting that allows us to disciple people, fund community transformation programs and support our ministry partners.
---
We need furniture donations!
Currently we schedule pickups for furniture donations within 10 miles of the store. Please email to schedule a pickup.
---
Thank you for your continued support through your donations, serving and shopping with us! If you have shopped, donated or served at Hope's Closet, this is how you are partnering with us to help impact the community s

ince our doors opened in 2015:
Hope's Closet has served over 77,000 families *(transaction count year to date)

People can shop with dignity and feel good to provide for their families. Story after story of a single mom providing for her kids, a man purchasing a suit for his job interviews, the man who needs court ordered community service and stays longer to volunteer because he finds a family within Hope's Closet, the man who finds comfort with the staff at Hope's Closet after his son's death and donates his son's belongings, a woman can afford a wedding gown and feel amazing on her wedding day, a woman who finds neat furniture to refurbish to sell to have an income…
Hope's Closet

Job's

Program launched in June

One participant of our Job's Program surrendered her life to Jesus while in the program

9 Salvations (including staff, serve staff, customers)

8

Baptisms of Hope's Closet staff, serve staff

Arc Community serves with us weekly

Customer asked for HC staff to baptize them

Countless of people came into the store because they saw the word "HOPE"

Over 1000's of prayer requests intentionally prayed for

Providing ministry CARE to our customers

Over 300 people have

served in Hope's Closet and over 50 are regular serve staff who support the mission

Saturday community prayer huddles

Providing families in need to help them get back on their feet

Support of local ministries and nonprofits that love Jesus
---
STORE LOCATION, HOURS and number
We are located at 14286 Beach Blvd, #44, Jacksonville, Florida 32250.
TUESDAY-SATURDAY* 9am-6pm (*except THURSDAY 10am-7pm)
Closed SUNDAY & MONDAY
Main Number 904-685-6828
DONATION DROP OFF HOURS
MONDAY-SATURDAY 9am-5pm
Drop Off Location: Side of Hope's Closet Thrift Store closest to San Pablo Road. T

he donation door may be closed, but we are open! When you drive up it will ring the doorbell to signal the team to open the door and serve you!



DONATION BINS
Donation Bins: located at Hope's Closet facing San Pablo Road. Use them to drop off donations anytime!
Please put clothing/shoes in bags prior to placing in donation bins.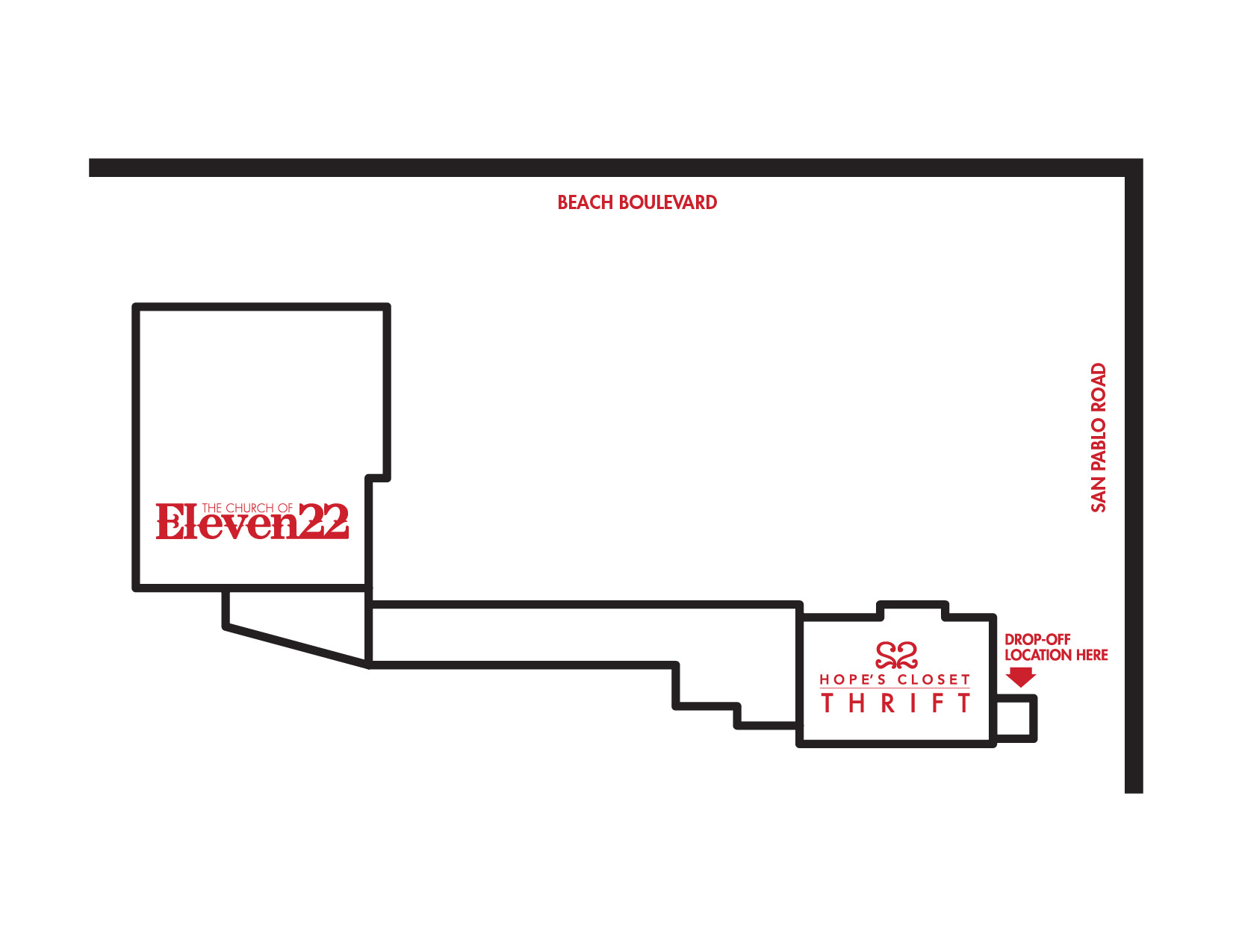 ---
volunteer serve staff wanted!
Need volunteer hours, have a passion to serve and reach people, or just love fashion? Serve with Hope's Closet!
Help with receiving and sorting donations, merchandising, customer service, check out & more!
SERVE DAYS: Monday-Saturday
---