12 Days 12 Ways. - Day 11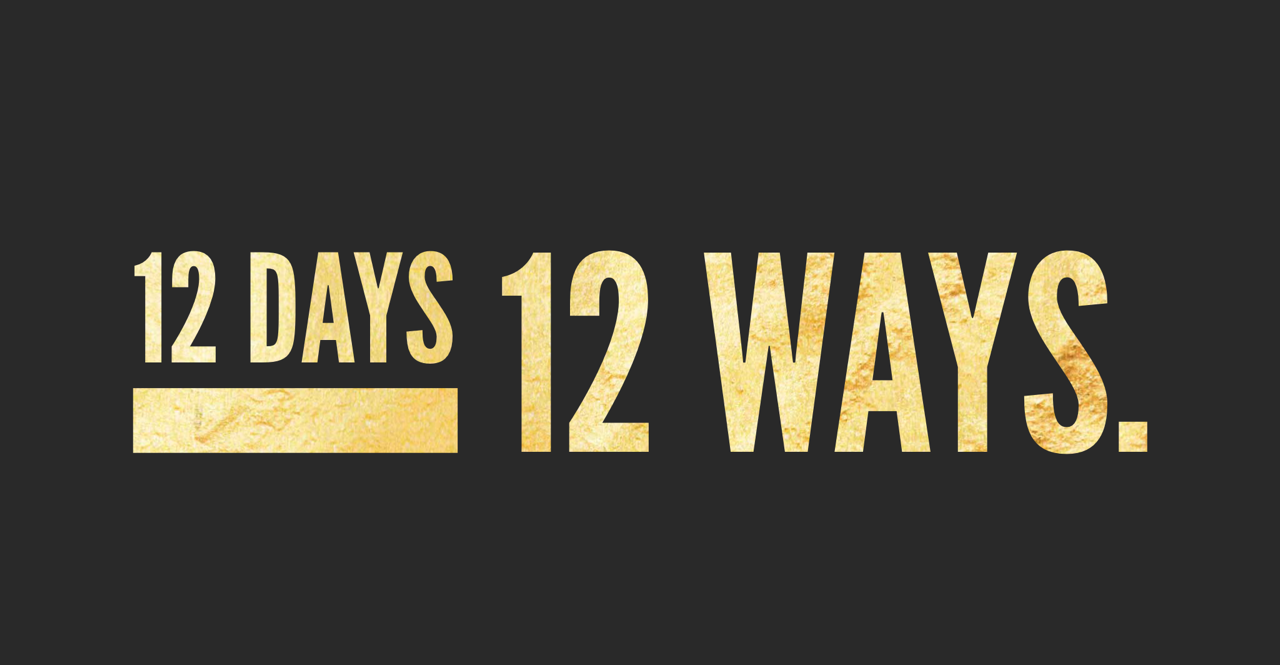 Day 11 – The Day after Christmas
December 24, 2017
December 26th, 1995 was the last time my mother ever left our house alive. After over 20 months fighting against cancer, she was very weak. In a wheel chair, we pushed her to the van and drove with her about ¾ of mile to my grandparents' house to celebrate Christmas with everyone. I was 14 years old.
You can watch more about the back story of this tough season of life here if you want.
That day, the day after Christmas, we ate ham, biscuits, macaroni and cheese, green beans, mashed potatoes and desserts, lots of desserts. We laughed and told stories. We acted like we had no problems and that the world was just fine. My mom sat quietly in my Papa's recliner and watched everyone. I can't say for sure, but I think she knew she did not have a lot of time left. As the day went on and carb-loaded bellies turned to yawns, I remember the unsettled feeling in the room, none of us said anything, but the adults all knew that this was going to be the Christmas that changed everything for our family. It would never be the same again. They were right.
Within weeks my mother passed. The funeral was a celebration, our family came under the provision of our church and friends and we were deeply cared for; it was pretty amazing, but we were broken. My dad was broken, heart and mind. I was broken. It was a dark time.
I gave myself to busyness, sports, friends, bad decisions, whatever to keep busy. My dad remarried a wonderful woman 6 months after my mom died. My new step mom was a welcomed addition, but honestly I was so busy and broken I hardly noticed. If I am honest, somehow my mother's passing left me with a deep sense of rejection. I don't know how death from sickness does that, but I was for sure trapped in a cycle of negative emotions rooted in the feeling that because of things I had not done or things I had done, I was being rejected as punishment.
Christmas lost its flavor after that. I dreaded it. The following year all the family got together again at Nanny and Pop's house. We ate and talked just like every other year, except it wasn't like every other year. I don't remember laughing one time that Christmas. I remember leaning over to my dad some time after lunch and saying, "I don't know what the big deal is about Christmas, seems all a bit childish to me." My dad quickly says back to me, "I guess it's all in how you look at." That is the last Christmas I remember our whole family being together. The next time I think we were all together was at my Pop's funeral a few years later.
As the years stacked up and college came and went, family, love and heart came second to work during Christmas time. I started preaching when I was 16 years old. By the time I was in college, I had a retreat to speak at every holiday and I was very aggressive in making sure I had something to preach at or work at during Christmas time. Parts of my family would gather at some point in the days before Christmas, but we were never together on Christmas. Eventually, the thrill of Christmas for me was two meals alone at the Waffle House and a couple movies on the big screen. I remember one Christmas Day, I watched Lord of the Rings, King Kong (the one with Jack Black) and Munich back to back to back in the theater. I know it sounds bad, but I was kind of into it.
Christmas had lost its heart to me. The truth is my heart was broken, and I never took my broken heart to Jesus. I kept it for myself and masked the sadness with good deeds of ministry work, brainless activity and isolation. This pattern continued for years.
Then, I met Jennifer. She loved Christmas. She didn't know my sadness, as she wasn't a part of my life then. She wanted to start playing Amy Grant Christmas albums in November. I was not a fan. She wanted to do present swaps and bake Christmas cookies. She wanted to drive around and see Christmas lights, watch Christmas movies and laugh. She wanted to be with family and be connected. Despite my hesitations around her jubilant Christmas spirit, I thought she was pretty perfect so I asked her to marry me. She did.
Our first married Christmas together I began to bring her in on my sadness a little, but we made the terrible decision to try and be at everything we were invited to for that Christmas. So we drove all over the southeast from grandparents to cousins to siblings' homes. We were incredibly busy, so the time passed. There was one tradition I had made that she allowed me to keep which is the Christmas Day meal at the Waffle House, bring on the double hash browns covered and chunked!!
After a brutal travel schedule the first Christmas, we decided we weren't going to do that again, so we kept it pretty chill the next year. As the day came around again, I found myself not so hesitant to Christmas songs, tree lights and ornaments. Somehow, God was using my wife to remind me that Christmas was about joy and hope, not about loneliness and pain. God was replacing loss with love.
After a few years of being married, we had a baby daughter. I remember holding my baby girl on her first Christmas morning and thinking, really for the first time in a long time, about a baby in a manger who lived and died for this little girl I was holding. My wife and my daughter were teaching me, a pastor, teacher and leader, about Jesus and how Christmas is really all about Him. I knew this in my mind, but had lost it in my heart. God had never lost me in His heart, He was kind to me, He always is.
I now have two daughters, and I love Christmas. I asked for the tree to go up right after Halloween, I make deals with my kids to get them to decorate earlier and let me start playing the Michael Buble Christmas album as soon as possible. I start buying gifts from Amazon in September. I grab the Christmas books to read to my girls at night as soon as I feel cold one time. I have found that Christmas time reminds me that the scars of rejection that pull on my soul are nothing more than the lies I once believed. In God's time and in God's way, He unraveled my rejection through loving relationships. I can't really explain how it works completely, I just know that it has and that it does.
I now look back across this 20 year journey with Christmas and wonder how exactly I turned in to a gingerbread obsessed, sugar cookie loving, Elf watching, house decorating Christmas junkie. Over time, that's how. You see over time, God did miracles in my life that reminded me of the miracle of life found in Jesus. He gave me a wife that loves me, even in my sadness. This reminds me that He truly loves me unconditionally, and He showed it by coming as a baby in a manger. He gave me daughters to hold, spoil and laugh with, which reminds me that He holds me up as as a son, spoils me as an heir and laughs with me like any good dad does.
Every year I love Christmas Day, but you know what I love more? The day after Christmas, because the day after means the day will be here again before you know it! Merry Christmas to you and yours, I hope wherever you are and whoever you are with, you experience Christmas as someone who is loved, treasured and cherished, because you are. God loves you, treasures you and cherishes you. He proved it through a manger and a cross. So I'd be willing to bet that if you are willing to look, you'll see Him working all around you, unwrapping your future with His miracles.